One of the best ways to work out just what people actually want from your website is to run a Top Tasks survey. A Top Tasks survey asks not only asks what someone has come to your website for, but also how important they consider it to be. This additional step of ranking the tasks allows you to truly understand how people value particular things, and it's an important step in building a website that meets the needs of your users.
Taskily is a top task survey tool that we built to make the process of creating, filling in and analysing Top Tasks surveys easier for everyone. It provides a nice clean list of options for people taking your survey, and it even lets them drag their choices around. The easier it is to take the survey, the more responses you get - which means better data.
[gallery link="file" ids="1430,1429,1432,1428,1427,1426,1431"]
_ Taskily lets you run and manage your surveys quickly._
Signup or download
As with all the things we do at Jumoo, Taskily is an open source project so you can download and use the Taskily code on your own servers.
If that all sounds a bit too much like hard work, we also offer Taskily as a service. Signing up for a test account is free, and you can create three surveys and gather 50 responses; a standard account lets you get unlimited responses for up to 10 surveys, and costs £100 per year.
Create a Survey
Once you have a Taskily account, creating a survey is easy. Just click on create survey, and you will be asked to give it a name.
Create a survey: Just pick a name and away you go.
Adding your tasks
When you've given your survey a name, you need to load up your list of tasks.
You just need to list your tasks, one per line.
Simply write one task on each line, and then say how many tasks you want people to pick.
Tasks
A typical number of tasks in a survey range from around 30 to 90, depending on the complexity of the services you offer.
Asking people for around 5 tasks is usually sensible, it gives you a good spread of options without asking too many questions. If your survey only has a few questions, then you may want to ask for fewer picks.
Any other Questions
Although the main purpose of the survey is to find out just how important things are to people, you may also want to ask a few more questions, that could help you work out if different sets of people want different things.
Asking some extra questions can help you get more details about who needs what.
It can be tempting at this point to ask all sorts of questions, but you should resist adding too many here. Firstly, the more questions you ask, the more likely people are to leave the survey at this point. Secondly, the more questions you ask, the more diluted the information in the survey will become - discovering that married women aged 19-21 thought this one thing is of reduced value when you realise that only one person fell into that category.
Asking all the ethnic diversity and equal opportunities questions here is very unlikely to offer you any value in the survey. Unless you are targeting key audiences, then there is really no need to ask these questions.
You're Done
At this point you have completed all you need to run your survey, so you are shown the make it live screen.
a simple tick and people can start to fill it in.
Making a survey means people can fill in your survey, if you tell them the url!
Popup Code
You can grab the popup code from the survey settings.
There are many ways in which you can publicize your survey, but the most common is using a popup on your website - your website is, after all, where you will find your users.
From the admin screen for your surveys you will see a link to get the popup code. Taskily will generate a script for you to put onto any webpage, that will show a popup to the user.
Running a Prize Draw
Once you have your tasks and questions sorted, you can run your survey. However, you might find you get a few more results if you run a prize draw, to give people a little extra motivation to fill it in.
You don't need to offer an amazing prize. A few shopping vouchers can be enough to have a significant effect on how your survey does.
Survey Results
Once you have your survey and you start asking people to fill it in, then you will start to see results coming in.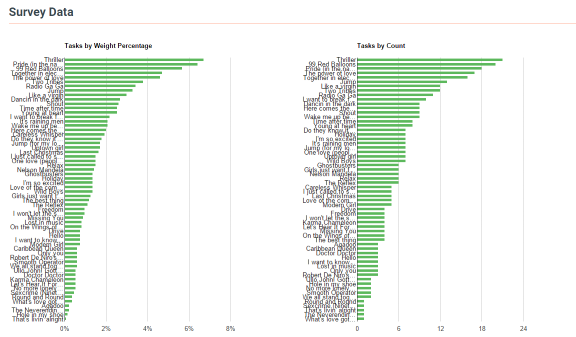 The results come in thick and fast, and Taskily will draw charts to show you how it's going.
You can download your results, and a summary of the results, with all the calculations done for you. Taskily also draws some nice graphs so you can see how the results are going.
Run your own survey now
You can use Taskily to run a survey now either by grabbing the code or going to https://taskily.azurewebsites.net. The free service lets you create up to 3 surveys and get 50 responses. The standard account has unlimited responses for up to 5 surveys, and costs £100 per year.